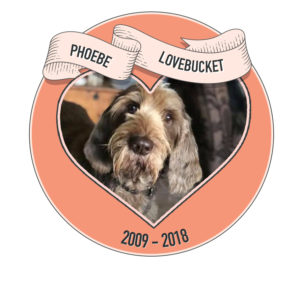 Phoebe was our first rescue from Italy, saved in the spring of 2015 from a cage in a puppy farm. She was six years old and had lived in a cage her whole life, with little human contact. She had no name, no comprehension of human kindness, no experience of being stroked or cuddled.
In Italy, Paola fostered her, gave her a name – Roana – and began to assess her needs. She was good with other dogs but very very shy and scared of humans, and had some resource guarding issues due to having been deprived of so much.  In Italy she would have been extremely hard (if not impossible) to re-home.
She was offered a wonderful and very experienced home with Kim, in the company of other dogs which was very important for her.
Money was raised very largely by the generosity of The Italian Spinone Dog Lovers Club on Facebook, which paid for her veterinary preparation and travel which was organised by Paola in Italy.
Roana had a new name for her new life – Phoebe.  She went to live with Kim in Cornwall and made great progress.
She loved life in Cornwall on the beach
Sadly, Phoebe's health declined and she was diagnosed with dementia and possible brain tumour, giving rise to several issues such as seizures. She had a very hard start in life and this must have taken its toll on her body but never on her sweet brave spirit. On October 19th, 2018, she passed peacefully in Kim's arms, as her friend Martha the Spinone touched her gently with her nose.
Her last years were filled with boundless love from Kim, and she leaves a legacy to be proud of – almost fifty Spinoni have now followed in her footprints to a new life in the UK, far from fear.  No-one who helped this sweet girl along her way will ever forget her story.
Kim has very kindly started a fundraising auction in her honour, so that her legacy continues to help other Spinone in desperate need. Thank you Kim for giving this beautiful Spinone girl her years of love.