Thinking of adopting a Spinone from abroad? Here are some things to consider…
What background do the dogs come from?
We have helped Spinoni from a wide range of backgrounds. Many are failed or unwanted hunters. Some are ex-show dogs, no longer wanted for breeding. Some were seized by the authorities in cases of neglect. Some are found on the street and some just turn up in pounds. Some have been house pets, or dogs returned to the breeder. It is not always possible to find out the full details, though we always try as it is helpful in understanding the issues a dog may face.
They are most usually bred to be working dogs, and many have not known much kindness. The dog will probably not be house trained or trained to be home alone. 
Spinone from Italian lines are almost all bred for hunting, and as a result, many have a very high prey drive.
From a kennel to your home is a huge change, so they need extra guidance, structure, a lot of time and energy from your side.  The reward of seeing them improve is huge, but remember you will be teaching this dog completely new and very valuable lessons.
Remember also they have obviously spent a lifetime understanding Italian as language, but they will understand your body language, tone of voice, expression and so on. Culturally there are huge adjustments for the dog.
Do not underestimate what your dog has been through, especially on an emotional level. Some dogs can adjust very quickly, but others can require much longer, sometimes years.
How do I know that we will 'click' when adopting from abroad?
There is no denying that there is a 'leap of faith element' in adopting from abroad where you can't meet the dog first, and it isn't right for everyone. We try to give the best information we can about the dog's needs and character so that it has the best chance possible of being in a compatible home. We also try to get video as this is a very good way to see something of their personality. It's worth remembering that few dogs show their character well when in a refuge, even when adopting in the UK.
A few of the cards produced to give an idea of the dogs – these give a quick overall view of the dog, and then we give as much information as possible to potential adopters :
All dogs are wonderful, and it's the bond that you make together that is the important thing. From the info, photos and video, you may feel that you can make a commitment to that dog, and the reward of seeing your rescue dog change and bloom is enormous. It's a decision that comes from the heart and not easy to quantify. We recommend reading some of our rehoming stories here which may be interesting. We have more advice for adopters here.
What about my dog? What if they don't get on?
Dogs are social animals, and Spinoni in particular are generally friendly in character. Most enjoy the company of a friend, but not all do, and the chemistry between dogs is a subtle thing.
You do need to be confident that they will welcome a new member of the family, and that even though the bond may not be instant, there won't be hostility.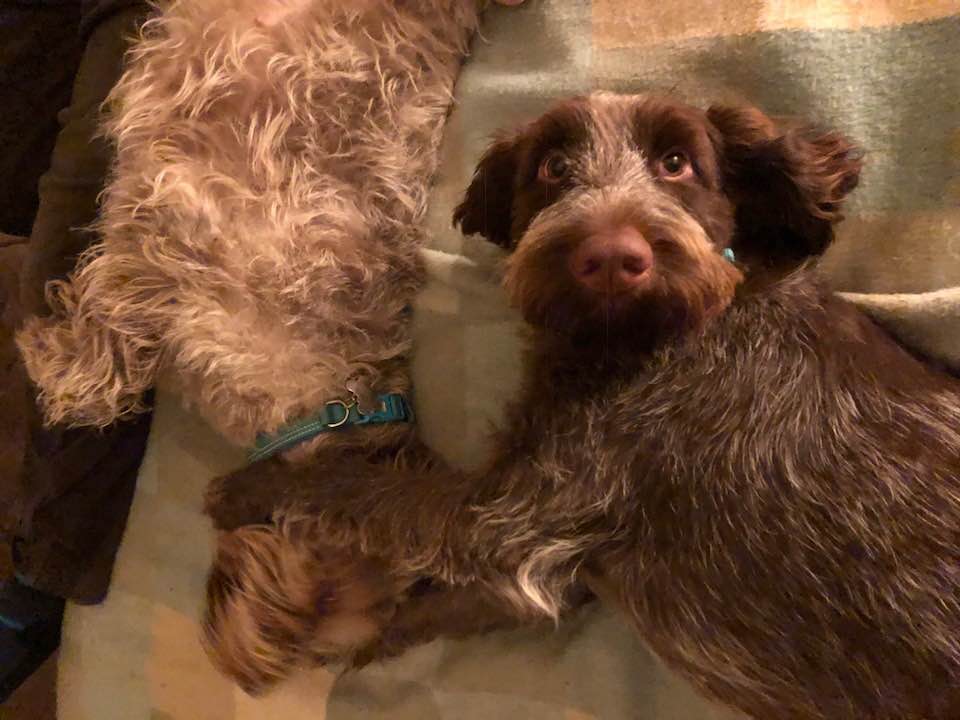 If your dog is not reliably welcoming to new dogs, it is probably better to adopt locally, so you can walk the dogs together first.
It really is important to see how your dogs reacts to another dog in their own space, and sharing their routine and attention…especially if they are currently the only dog. The best thing is to have plenty of dog visitors, progressing to overnight stays (dog-sitting exchanges are excellent ways of doing this) and eventually to long weekends etc. You will soon get an idea of the kind of dogs that yours likes, and behaviours that are less welcome.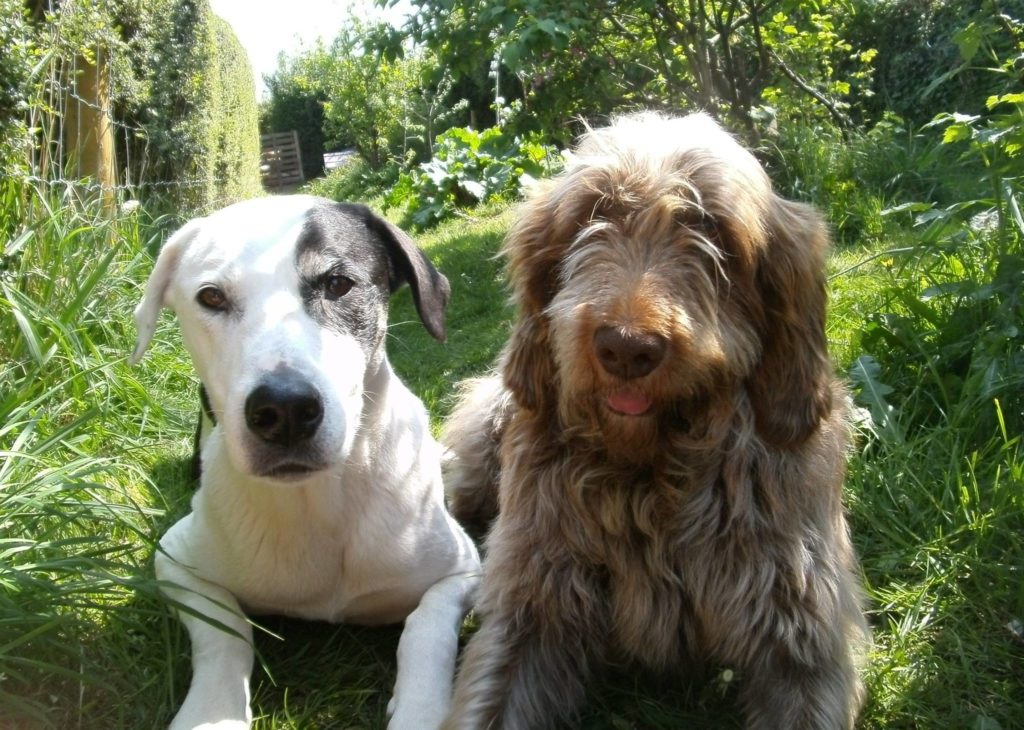 And of course via care in the introduction process and through positive reinforcement of their time together (see our advice for adopters page) most dogs become good friends.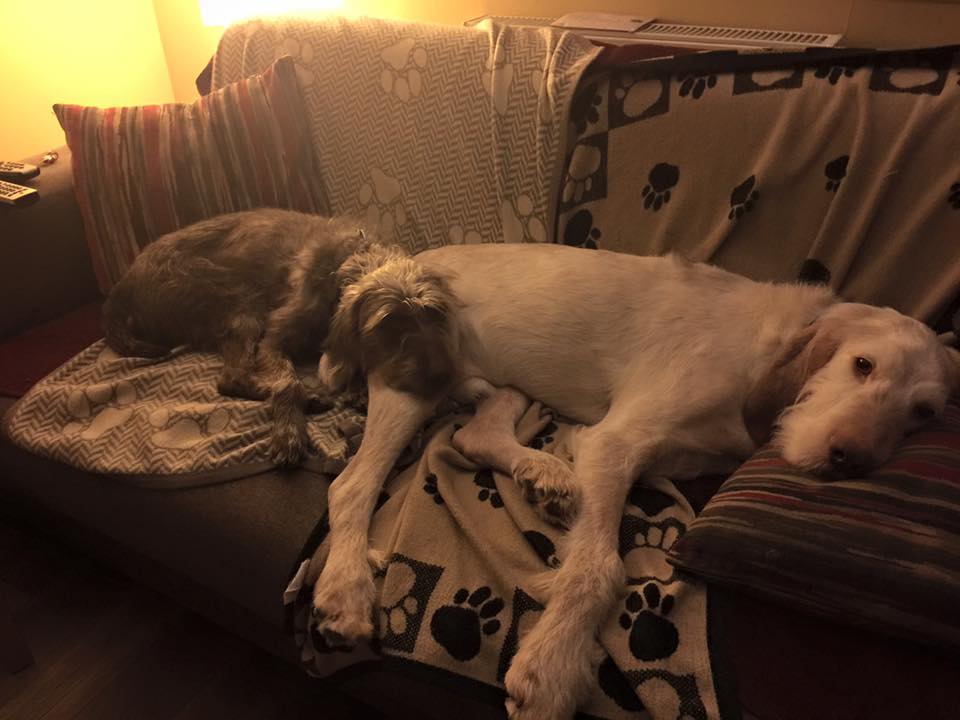 In the event of real incompatibly, we would place the dog in a suitable foster until a new home could be found. For perspective, this has happened only twice in over a hundred and fifty adoptions.
Do you have any requirements?
Because we don't have the ability to offer dedicated local support in the way that a shelter in the UK can, it's important to us that the adopter is not a novice dog owner. A rescued Spinone from abroad is generally not suitable to be a first dog, and we prefer to place them in homes with plenty of experience of Spinoni or rescue dogs, or ideally both.
We do also prefer owners who have experience of owning Spinoni, and are used to the the breed traits, though again, this isn't a hard and fast rule. Experience with rescue dogs, especially gundogs is also a plus.
However we completely understand that there are those who haven't actually owned a dog but can be quite experienced with them. For instance if you have a strong background of dog ownership in the family, or dog-sit regularly for friends.  Or you could consider joining a group like BorrowmyDoggy or The Cinnamon Trust, look for a local Facebook group for dog owners, or walk dogs for a local shelter.  These are great ways to see how a dog fits into your life and remind yourself of what it's like to have them around! And of course it's a nice way to begin to build a network of friends for support and for buddies for your eventual lucky adoptee 🙂
So please do contact us rather than be put off applying if the dogs looks suitable – we do sometimes get dogs with no issues at all, for instance from home backgrounds.
Ex-working and kennelled dogs often come from an environment of being kept outdoors in groups, so for these Spinoni it's often better if the adopter already has a dog. However we get all types of personalities.
Enclosed garden:
You do need to have an enclosed garden – it can be some time before a rescued Spinone is reliable enough to go off the lead, so this can be their only source of free outdoor movement  when first adopted.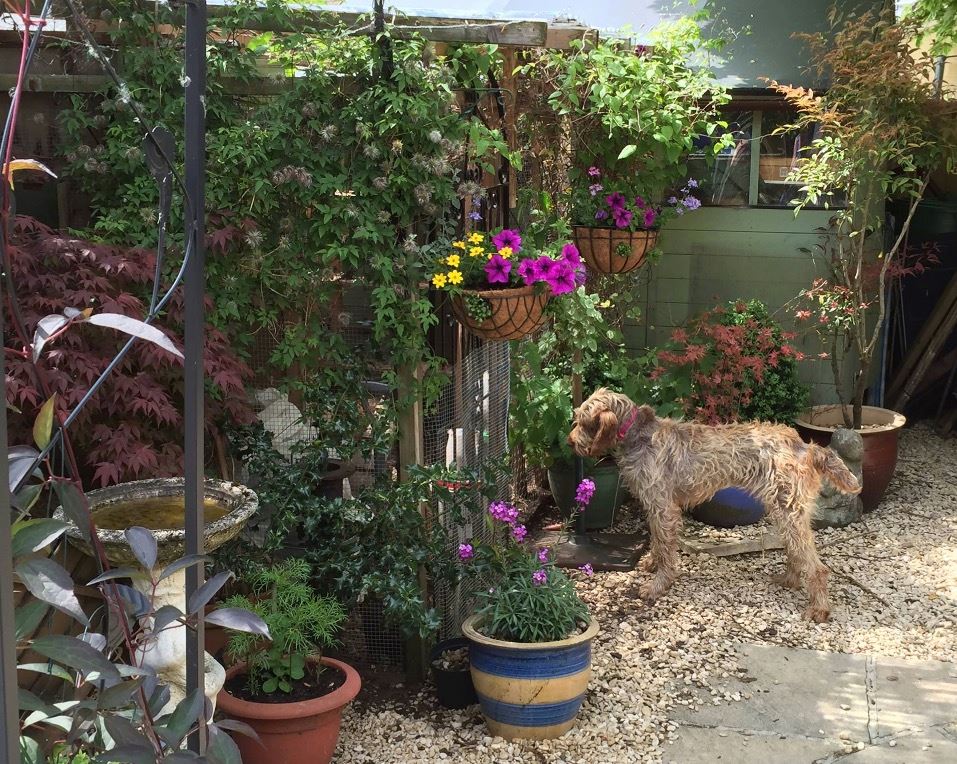 Time:
You need time to give the dog the attention it needs. A rescue dog takes time and care to settle, so it's better to choose the right moment, when there are no major life changes going on. Dogs, especially rescue dogs, can react very badly to noise, commotions, stress in the house, loud voices even though not directed at them.
We consider four hours to be an acceptable maximum for a dogs to be left alone. A lot of kennel dogs are used to being left without people, and cope well as long as they are with another dog. However, separation anxiety can manifest if they are left too long, so owners who work must be prepared to put time into accustoming the dog to this.
Children:
In general, a rescued dog from a kennel environment is not suitable to be placed with under-fives. The unpredictable nature of small children is not a good mix with a rescue dog of unknown background. We understand that a child who is very used to dogs can be naturally very good with them. But in a household with tinies, there will inevitably be other children around, who may not be at all used to dogs. Children of ten and up can be wonderful companions to the right dog .
Cats:
The Spinoni in Italy are bred almost exclusively for hunting, and as a result can have a much higher prey drive than many UK dogs. Therefore they can be difficult to manage in homes with cats, chickens, birds, rabbits etc. It is not only a question of the safety of the other animals – the dog can be perpetually on a state of high alert which isn't helpful to them settling.
We can sometimes cat test them, and we have homed Spinoni successfully with a confident cat and also with other animals. However, sometimes a dog has been OK with the cats in the shelter or in a previous home – but not with the new cat. And there have been also occasions where the resident cat has strongly dislikes the incoming dog, and has been very unhappy.
Cats (as everyone knows!) are hard to predict. So please do consider carefully if your cat is definitely going to be OK with a new, strange dog in the house. It's good to test this with friend's dogs to check – just as we would "cat test" a dog, we would ask you to "dog test" your cat, and not just with one dog.
However there is no getting away from the fact that cat-safe Spinoni are not that usual in the dogs we work with, and it may mean a long wait. In the UK it is much more common so we would always recommend joining the list of the UK Rehome team as well, for cat owners.
Other dogs:
Spinoni in Italy are normally kept in kennels in groups – sometimes other Spinoni, sometimes other gundog breeds. So to find themselves suddenly a single dog can be very difficult adjustment. Another dog, ideally of a type they are used to, provides familiarity and reassurance. A friend helps ease their transition into a new life, giving a role model for behaviour in new situations. Additionally Spinoni generally 'speak the same language' with regards to play and other communication, which again can be a huge help in the dog's adjustments. We do occasionally get dogs who are happier on their own but it's quite unusual.
We generally prefer to place them in homes of the opposite sex, as a bitch is generally more accepting of a dog in her space than another bitch, and the same applies for the boys. It does depend enormously on the individual dog! In the case of same-sex adoptions it's helpful if the resident dog is older.
Older adopters
The Italian lines tend to be smaller than the UK ones with bitches often 25 kilos and dogs around 30 kilos. So they can really suit someone who wouldn't have considered another Spinone due to their size. We often help Spinoni who are around 7-8 years old – hunters at the end of their working or breeding use – and these dogs are ideal for older adopters, as they are generally more settled.
I am interested in adopting, what do I do?
Currently we don't keep a register of potential adopters for a variety of reasons such as time, data protection, email issues, changing circumstances. So we don't take full applications unless it's for a specific dog. We are all unpaid volunteers and don't have the resources to process them, store them and keep them up to date.
The best way to hear of new rescues seeking homes is to 'like' our page
https://www.facebook.com/Spinone.SOFA/
Make sure you are following the page and receiving notifications – instructions here.
Please do read our general information about the process here:
http://www.spinone-sofa.org.uk/adoption/
And our Q & A here.
We highly recommend you join our group, Spinone Adopters and Friends, where you will find lots on interesting first-hand experience and discussion.
If you are not on Facebook, that's fine – you can still access the page and see the dogs, and then email us at info@spinone-sofa.org.uk to apply. Please do feel free to email us to tell us a little about yourself and your household including pets, whether you have an enclosed garden, and any other information that may be relevant, and let us know what kind of dog you are ideally looking for: Age, Sex, Colour, Spinone or Spinone Mix. At present there is no way to send an automated alert via email for the Facebook posts so please do look at the page every so often, or ask a friend who is on Facebook to like and follow the page as above.
One of the reasons we formed this charity was that there were so many wonderful homes available, and sometimes a dog is lucky enough to have many lovely offers. For young purebred dogs without major issues we are often overwhelmed with applications. Please do understand that if it turns out that another home is a better fit for this particular dog, it is not because we think your home is not a good one! Much of the process is about matchmaking. The dogs' needs always come first, and we work with the refuge or foster home to give that dog the very best possible chance of a successful rehome. We often have a lot more potential adopters than dogs available, so we have to give disappointing news to many wonderful people. If another home is chosen this time, please don't feel that it is any reflection on you or the home you are kind enough to offer.
Further information
Advice for new adopters here
http://www.spinone-sofa.org.uk/advice-for-adopters/
And you can read the stories of some of our dogs here:
http://www.spinone-sofa.org.uk/category/rehoming-stories/