Considering adopting a Spinone from abroad?
I am interested in adopting, what do I do?
We take applications for each available dog individually. We don't keep a register of potential adopters for a variety of reasons such as time, data protection, and (most of all) changing circumstances.
Where can I see available dogs?
The best way to hear of new rescues seeking homes is to 'like' our page. If we have available dogs, they will always be at the top of the page.
https://www.facebook.com/Spinone.SOFA/
Make sure you are following the page and receiving notifications – instructions here.
Please do read our general information about the process here:
http://www.spinone-sofa.org.uk/adoption/
And our Q & A here.
We highly recommend you join our group, Spinone Adopters and Friends, where you will find lots on interesting first-hand experience and discussion. Available dogs are normally posted here also.
If you are not on Facebook, that's fine – you can still access the page and see the dogs, and then email us at info@spinone-sofa.org.uk to apply. Please do feel free to email us to tell us a little about yourself and your household including pets, whether you have an enclosed garden, and any other information that may be relevant. At present there is no way to send an automated alert via email for the Facebook posts so please do look at the page every so often, or ask a friend who is on Facebook to like and follow the page as above.
Do you have any requirements for adopters?
All our dogs have individual needs, and this information is provided when they are seeking homes. As a very brief overview, we look for homes with experience of Spinoni and / or rescue dogs, and you must have securely enclosed outdoor space. Another dog – preferably a Spinone, is a great benefit to many of our rescues. Cats and small children can be complicating factors.
You can read more about this here.
How long can I expect to wait for a dog? 
This is impossible to predict! In general we re-home around thirty dogs per year. One of the reasons we formed this charity was that there were so many wonderful homes available, and for young purebred dogs without major issues we are often overwhelmed with applications.
Much of the process is about matchmaking. The dogs' needs always come first, and we work with the refuge or foster home to give that dog the very best possible chance of a successful rehome.
We generally have many, many more potential adopters than dogs available, so we have to give disappointing news to a lot of wonderful people.  Conversely, sometimes the right dog arrives very quickly!
Some kinds of home are easier to find compatible dogs for than others – more about this here.
What does it cost?
We ask for a donation of £500. Each dog costs considerably more than this – blood tests for diseases, vaccinations for rabies, parvovirus, distemper etc, neutering, passport preparation, and transport – and we fundraise for the rest of the amount.
What health tests are performed?
All dogs are tested for Ehrlichia and Leishmaniasis, vaccinated against rabies and vaccinated with an approved general preventative vaccination such as Eurican Dappi. They are wormed and treated with flea and tick preventative just before travel. It is important to understand that though the dog has been tested and found to be clear of Leishmaniasis, the disease can develop at a later point in the dog's life. This is extremely rare but insurance should be selected with that in mind. The dog's blood test results will arrive with it and should be carefully kept after discussion with your vet. 
How do I know that we will 'click' when adopting from abroad?
There is no denying that there is a 'leap of faith element' in adopting from abroad where you can't meet the dog first, and it isn't right for everyone.
We give the best information we can about the dog's needs and character so that it has the best chance possible of being in a compatible home. We also try to get video as this is a very good way to see something of their personality. It's worth remembering that few dogs show their character well when in a refuge, even when adopting in the UK.
A few of the cards produced to give an idea of the dogs – these give a quick overall view of the dog, and then we give as much information as possible to potential adopters :
All dogs are wonderful, and it's the bond that you make together that is the important thing. From the info, photos and video, you may feel that you can make a commitment to that dog, and the reward of seeing your rescue dog change and bloom is enormous. It's a decision that comes from the heart and not easy to quantify.
We recommend reading some of our rehoming stories here which may be interesting. We have more advice for adopters here.
What about my dog? What if they don't get on?
Dogs are social animals, and Spinoni in particular are generally friendly in character. Most enjoy the company of a friend, but not all do, and the chemistry between dogs is a subtle thing.
You do need to be confident that they will welcome a new member of the family, and that even though the bond may not be instant, there won't be hostility.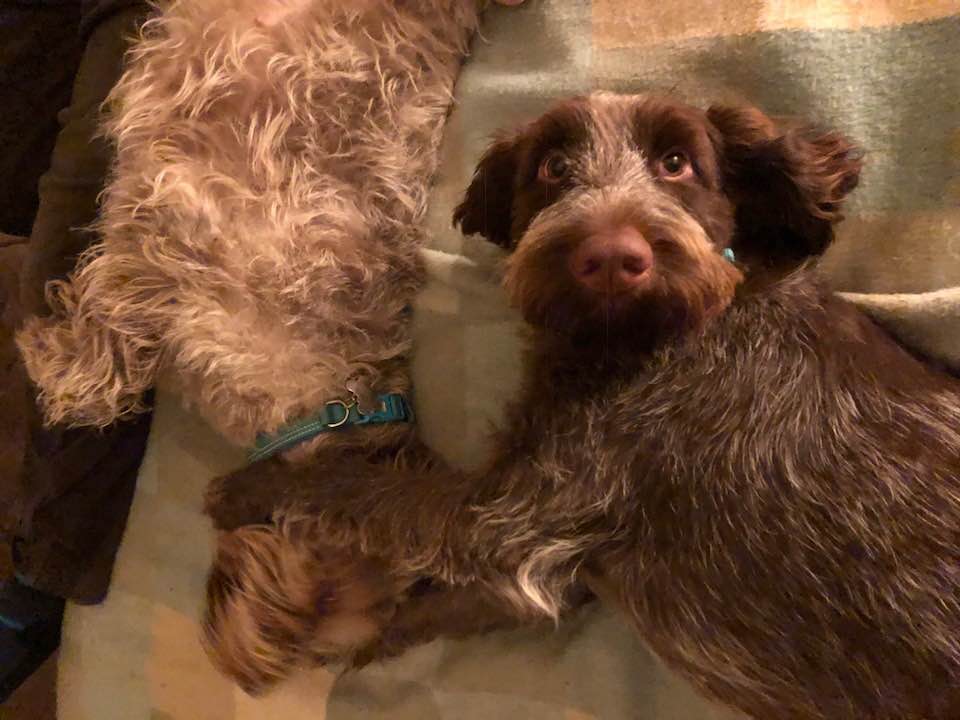 If your dog is not reliably welcoming to new dogs, it is better to adopt locally, so you can walk the dogs together first.
It really is important to see how your dog reacts to another dog in their own space, and sharing their routine and attention…especially if they are currently the only dog. The best thing is to have plenty of dog visitors, progressing to overnight stays (dog-sitting exchanges are excellent ways of doing this) and eventually to long weekends etc. You will soon get an idea of the kind of dogs that yours likes, and behaviours that are less welcome.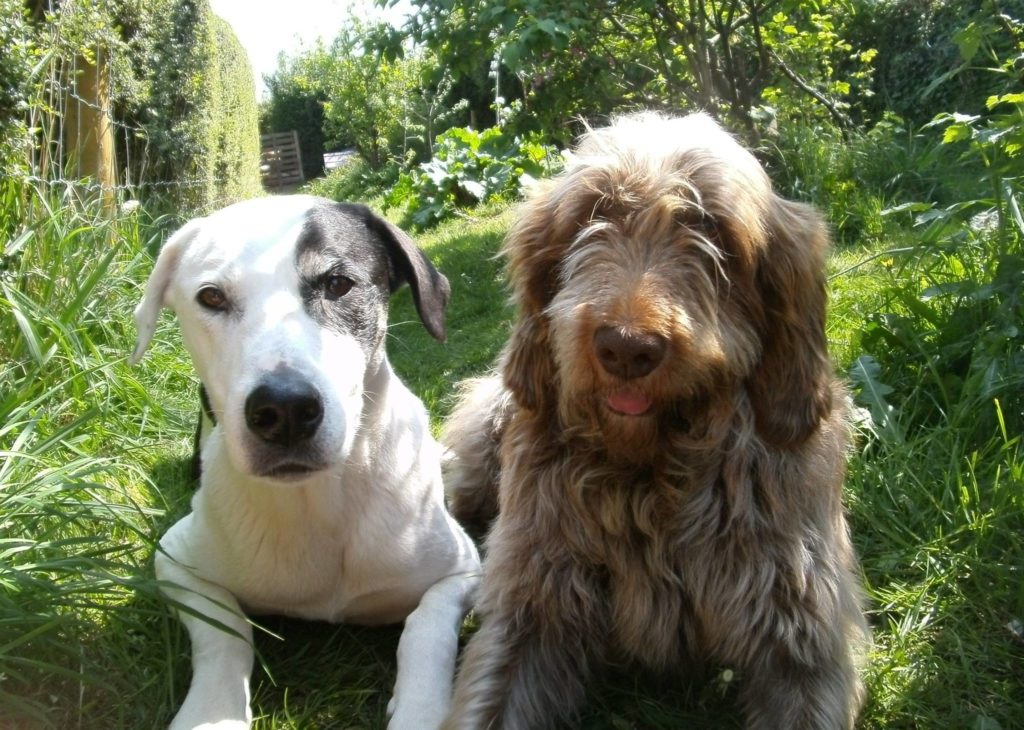 And of course via care in the introduction process and through positive reinforcement of their time together (see our advice for adopters page) most dogs become good friends.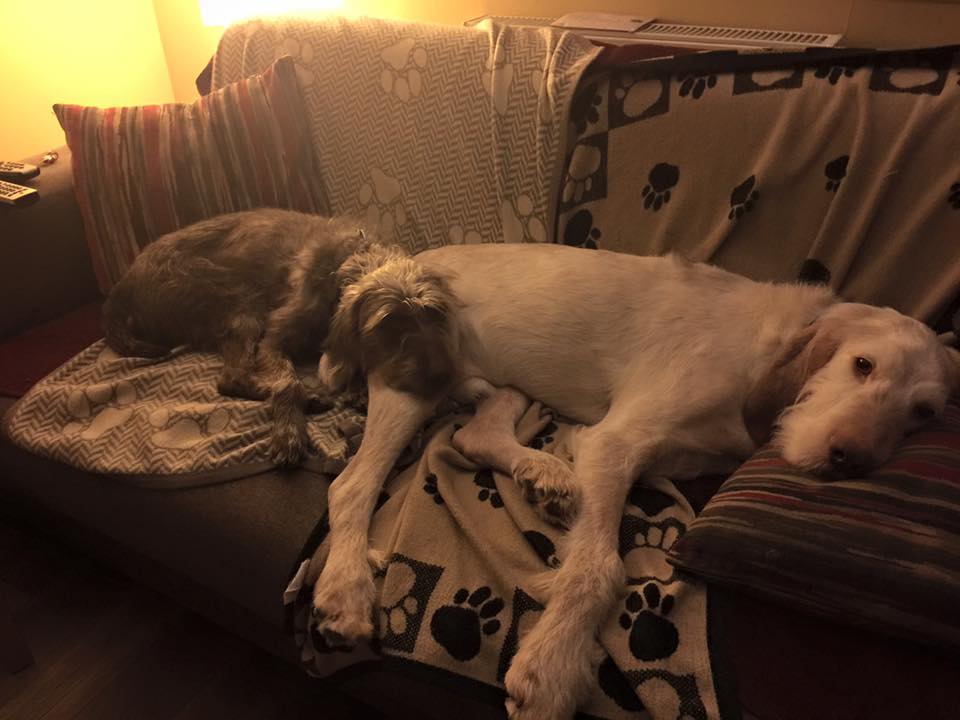 In the event of real incompatibly, we would place the dog in a suitable foster until a new home could be found, though this has only happened very rarely.
What background do the dogs come from?
We help Spinoni from a very wide range of backgrounds. Many are failed or unwanted hunters. Some are ex-show dogs, no longer wanted for breeding. Some were seized by the authorities in cases of neglect. Some are found on the street and some just turn up in pounds. Some are in a very bad state on recovery, and need time in foster before being ready for rehoming to someone who can continue their rehabilitation.
Some have been house pets, or dogs returned to the breeder, and have not been mistreated at all.
It is not always possible to find out the full details, though we always try as it is helpful in understanding the issues a dog may face.
What training will they have?
The dog will unlikely to be house trained or trained to be home alone.
As they have often lived in kennels, asking to go out is a generally a new thing for them. However, most dogs learn to be clean in the house very quickly, especially with another dog to copy. It is very common for newly arrived dogs to have accidents in the first days, as they are not accustomed to their new home's rules and routine. So this is something you need to be confident in handling, just as you would a puppy.
They are usually bred to be working dogs, and as a result, often have a very high prey drive, much higher than many UK bred Spinoni. Although many are failed hunters, this can happen for a variety of reasons (they may be gun shy for instance) so this doesn't necessarily mean they don't have a strong hunting drive.
Daisy is a young Spinone from working lines and as you see here is far higher energy than most UK bred Spinoni (not all!)
You need to be confident in how to handle these issues, or have someone who can help you.
It is also impossible to be completely sure that they don't have other issues, unnoticed at the refuge or even in foster,  which may surface in their new lives.  You can expect them to need extra guidance, training, structure, and a lot of time and energy from your side.  The reward of seeing them improve is huge, but remember you will be teaching this dog many completely new and very valuable lessons.
They often have not known much kindness which is hard on such a highly sensitive breed. Some dogs adjust very quickly, but others can require much longer, sometimes years. Much more on this process in our advice for adopters here and you can read the stories of some of our dogs here:
http://www.spinone-sofa.org.uk/category/rehoming-stories/